Back
The Gary Sinise Foundation Changes Another Life: U.S. Army SPC Tyler Jeffries Receives New Smart Home with Tech from Nortek Security & Control
Jeffries' specially adapted smart home features ELAN® control, 2GIG® Security, multi-zone SpeakerCraft® audio, Panamax® power protection, and more.
CARLSBAD, CALIFORNIA — Following in the footsteps of his Navy-veteran father and Air Force-veteran brother, Tyler Jeffries proudly enlisted in the U.S Army in January 2010. After two years of training with the Attack Company 2-1 Infantry Battalion in Ft. Lewis, Washington, Jeffries deployed to Afghanistan's Kandahar province In April 2012 where, just six months later, in October 2012, Jeffries' life changed forever when an improvised explosive device explosion took both of his legs. For Jeffries, this was not a defeat, but merely a setback, and he took his first steps with prosthetic legs after just 44 days, following nearly 30 surgeries.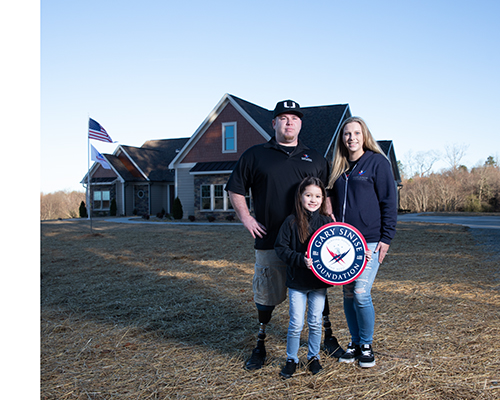 Jeffries' story caught the attention of the Gary Sinise Foundation's R.I.S.E. (Restoring Independence, Supporting Empowerment) program, which recognized his sacrifice and selected him to receive a new specially adapted smart home in North Carolina, complete with home automation, entertainment, and security technologies from Nortek Security & Control.
Brian Berg, Principal at electronics integration firm Interactive Interiors, designed and installed the home's technology infrastructure and ELAN control system to provide Jeffries and his family with tools that simplify common household activities and give Tyler added freedom and independence.
"Thanks to the ELAN Control System in this specially-adapted home, SPC Jeffries can easily control lights, music, TV, security, door locks, surveillance, and window shades from anywhere in the home," Berg said.
Using the simple, intuitive interface in the ELAN mobile app, two wall-mounted ELAN touch panels, or one of four ELAN HR30 remotes, Jeffries and his family have total dominion over the electronic system in the home. Multiple TVs and several zones of multi-room audio can be turned on and controlled instantly, while property-wide Lutron lighting and motorized window shades are also just a touch away. The home's climate is controlled with four ELAN thermostats creating distinct automated HVAC zones that can be adjusted right from the ELAN app.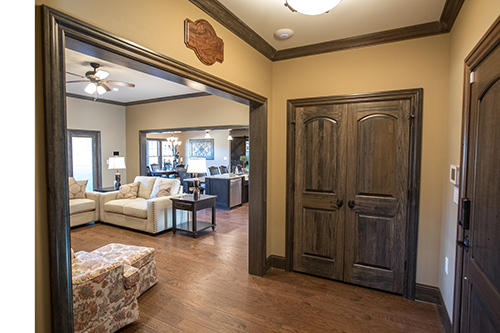 "Tyler loves gaming, so he was really excited about the man cave we designed with a 75" TV and 7.1 surround sound system with SpeakerCraft in-ceiling speakers and a Sunfire subwoofer," Berg said. "We added custom scenes based on their needs, such as lighting scenes for nighttime that automate multiple rooms and hallways through a single button, or a 'Movie' scene that automatically turns on the TV, selects a source, turns down the lights and lowers the motorized window shades. For Tyler, who is most often in a wheelchair while at home, this makes life more enjoyable and saves huge amounts of time for those daily tasks most people take for granted."
The outdoor lighting is controlled as well, including a spot light on the large American flag in front of the home, and special pathway lights that emit bug spray on command through the ELAN app. The flagpole spotlight is programmed to turn on for morning and evening, and automatically turn off during daytime.
Security was a top concern for Jeffries, so having instant access to the home's robust 2GIG security system and 10 ELAN surveillance cameras was a huge deal. Whether they are at home, at the grocery store, or halfway around the world, the family can easily view live feeds from the cameras in the ELAN mobile app and review video from the digital video recorder, all without leaving the ELAN app. Because the 2GIG security panel is fully integrated into the ELAN system, an "event" identified by a 2GIG sensor automatically alerts the surveillance system to display the appropriate video feed to the ELAN app. Three of the home's doors feature electronic door locks that can be opened through the ELAN app, and the two garage doors are remotely accessible as well.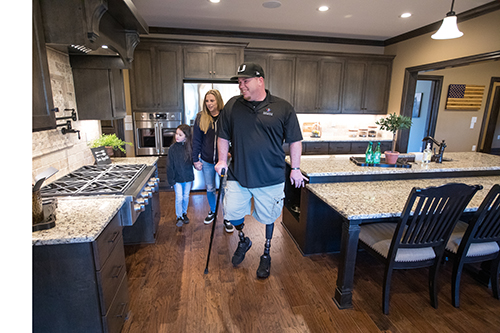 "They love the system," Berg added, "and they frequently show it off when new people visit the house. It really delivers a much higher standard of living, allowing Tyler and his family to interact with their home in a more natural way that alleviates stress and provides greater comfort, convenience and peace of mind. We were thrilled to play a role in improving this hero's life and provide modern technologies to give him greater self-sufficiency."
With daily home life relying on integrated technologies, Interactive Interiors made sure to protect all the equipment with a Panamax M4315-PRO power conditioner and a Panamax MB1500 UPS. The power system includes BlueBOLT remote technology, so the integrator can schedule power cycles of log in remotely should a connected subsystem experience an issue. This expedites service calls and further simplifies reliable operation for the family.
The brain of the system is the ELAN gSC10 system controller, with four additional ELAN g1 controllers providing on-screen display and local control for four TVs. The surveillance system records to a 4TB ELAN NVR, while an ELAN 4K 4x4 matrix offers video distribution for centralized sources such as cable boxes and a Blu-ray player.
In addition to adding scenes and specialized automation, Berg also expects to install more surveillance cameras and potentially add voice control as another easy means of system management.
"Tyler loved that the system can grow and expand to do almost anything they want," Berg said. "Whether that ends up being voice control, additional security or lighting, or more complex scenes that perform a host of functions from a single button, his ELAN system can do it all."
About ELAN
ELAN, from Nortek Security & Control, develops an award-winning line of whole-house entertainment and control solutions distributed through a comprehensive channel of select dealers throughout the United States, Canada, and countries worldwide. The ELAN 8 update was honored with the "2017 Human Interface Product of the Year" award. The new ELAN Intelligent Touch Panels add face recognition and voice control for a truly intelligent home experience. To learn more, visit www.elanhomesystems.com.
About Nortek Security & Control
Nortek Security & Control LLC (NSC) is a global leader in smart connected devices and systems for residential, security, access control, and digital health markets. NSC and its partners have deployed more than 5 million connected systems and over 25 million security and home control sensors and peripherals. Through its family of brands including 2GIG®, ELAN®, Linear®, GoControl®, Mighty Mule® and Numera®, NSC designs solutions for national telecoms, big box retailers, OEM partners, service providers, security dealers, technology integrators and consumers.
Headquartered in Carlsbad, California, NSC has over 50 years of innovation and is dedicated to addressing the lifestyle and business needs of millions of customers every day.
Other brand names and product names mentioned herein may be the trademarks, tradenames, service marks or registered trademarks of their respective owners.
Back