Back
Tuesday, January 29, 2019
Life in Portugal's Stunning Algarve Region Gets Even Easier with an ELAN Entertainment & Control System
Homeowner uses his own ultra-minimalist home as a showroom for his AV install business, with ELAN®, SpeakerCraft®, and Sunfire® at the heart of the sophisticated entertainment system.
CARLSBAD, CALIFORNIA — The Algarve region, spread out along the southern coast of Portugal, is a sun-soaked sliver of southern Europe that is turning up on "must visit" lists all over the world. When Bart Hoogwerff Eikelenboom, Founder of Netherlands-based Spark Custom Electronics set out to build a home and AV showroom in one, he quickly settled on Algarve as the place to demonstrate his most trusted brands, including ELAN®, SpeakerCraft®, and Sunfire® by Nortek Security & Control (NSC).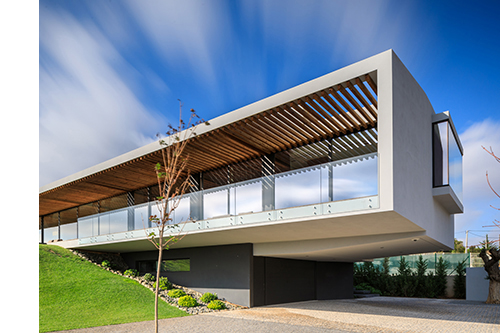 "I wanted this home to emulate the vibe of the Algarve region, making it as comfortable and easy as the surrounding region by using architecture and technology," Eikelenboom said. "To accomplish this level of relaxation and ease-of-use without complexity, I controlled every facet of the home with ELAN, which is flexible, easy-to-configure, and extremely intuitive. It brings a certain level of relaxation. It's also the perfect setting to show interested parties what ELAN is capable of." 
The technology ties together every aspect of the expansive 6,000-square foot marvel, which was designed by noted architect Vasco Vieira. Outdoors, a suspended infinity pool overflows into a smaller pool on the garden level below; olive trees bloom in the expansive garden beside a koi pond; and a sprawling concrete terrace offers immaculate ocean views. Indoors, a home cinema, gym, multiple bedrooms and bathrooms all showcase the minimalist architecture and design.
In all, ELAN controls the home's audio, video, lighting, climate, automated shades, irrigation, pool and spa, security, bio fuel fireplace, and the filter system in both the outdoor koi fish pond and infinity pool. Eikelenboom's family is able to control the system from anywhere in the home, using the ELAN App on their smartphones, or several strategically placed ELAN 12" in-wall touchpanels throughout the residence. They are also able to easily check in on every subsystem remotely, including monitoring security camera footage from their smart phones.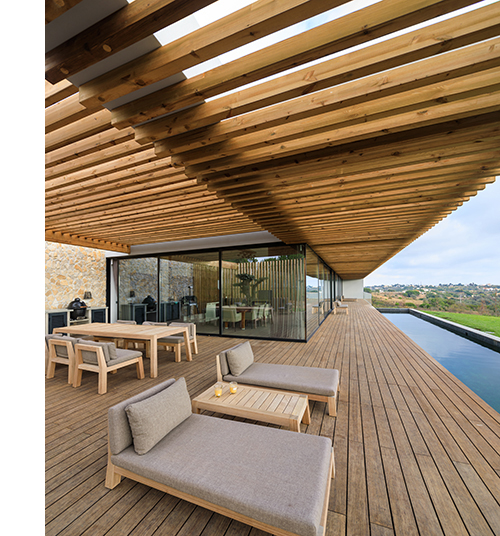 While designing the system during the initial planning process, entertainment was the focal point. That's why Eikelenboom configured each room to include sound amplification and control from ELAN Multi-Room Amplifiers, paired with dozens of SpeakerCraft loudspeakers and Sunfire subwoofers. "Sunfire and SpeakerCraft provide a 360-degree audio experience throughout the entire home that is truly unparalleled," he commented. 
Eikelenboom also incorporated several architectural elements throughout the house to amplify sound even further. For example, the living room's fireplace is made of SINH™ board – a fire-resistant material with excellent acoustic properties – and supports the sound system. "In the living room, the SINH board above the fireplace supports Sunfire IW8 In-wall subwoofers and SpeakerCraft in-wall speakers," he explained. "With Sunfire and SpeakerCraft quality, and the acoustic SINH™ board, the audio throughout the living room and the entire home is extraordinary." 
The sound system continues to the outdoor area, which features breathtaking ocean views, a suspended infinity pool, a koi fish pond, and a full outdoor kitchen and patio. "The SpeakerCraft OE Series loudspeakers together with the in-ground SpeakerCraft Boom Tomb subwoofer provide a crystal-clear audio experience in the open air," he explained, noting that the outside space was specifically built to blend in with the natural surroundings of the region. "The speaker placement and the bass delivered by the in-ground sub helps connect the house and the outside surroundings, which also gives a friendly and lively feeling. The audio continues indoors and out, and the quality remains consistent. It fuses perfectly with our open architecture."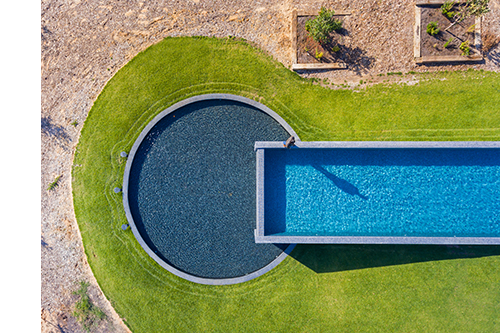 In addition to seamless control of the whole-home audio system, Eikelenboom depends on ELAN to control and filter the outdoor pool and koi pond. The infinity pool is extremely unique in that it is suspended, and flows directly into the koi pond below. The overflow area contains the pool's filtration system, and both the koi pond and the pool run on two separate systems, but work together in a very efficient way.
"With ELAN, both systems are easily controllable," he explained. "I can operate everything, including the jet streams, the waterfall, and the pond from my phone with ELAN," he said. 
The home is also extremely energy-efficient, as a Tesla® Powerwall stores excess energy from solar panels to provide power at night. The solar panels on the roof heat the water from the ground, which also provides the floor heating. Additionally, the swimming pool pumps in the basement consume fifty percent less energy than usual.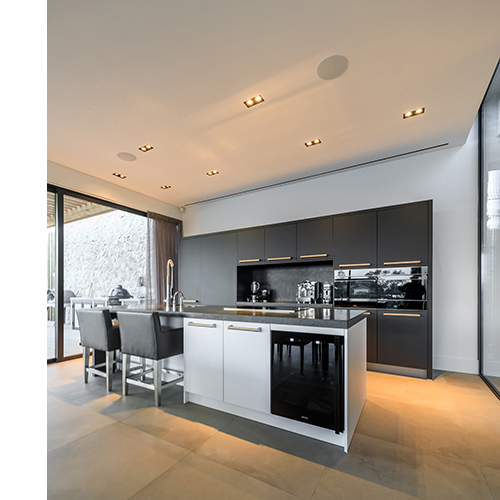 Hoogwerff Eikelenboom admits that his dream house was not achieved without a few bumps in the road during the construction process, but he is proud to be smoothly showcasing his home installation business with ELAN, SpeakerCraft and Sunfire playing major roles.
"Not only do I get to enjoy this stunning home with my family, but it serves as an asset to my business because I can take interested customers on a tour," he concluded. "This home really showcases what the ELAN system is capable of, and how audio can connect and elevate spaces throughout a residence." 
All images courtesy of ©MARCELO LOPES - ARQUIMAIS ARCHITECTURE AND DESIGN.
About ELAN
ELAN®, now part of Nortek Security & Control, develops an award-winning line of whole-house entertainment and control solutions distributed through a comprehensive channel of select dealers throughout the United States, Canada, and countries worldwide. The ELAN 8 update was honored with the "2017 Human Interface Product of the Year" award and continues to expand its intuitive functionality with security, climate, surveillance and video distribution products and integrations. To learn more, visit www.elanhomesystems.com.
About Nortek Security & Control
Nortek Security & Control LLC (NSC) is a global leader in smart connected devices and systems for residential, security, access control, and digital health markets. NSC and its partners have deployed more than 4 million connected systems and over 25 million security and home control sensors and peripherals. Through its family of brands including 2GIG®, ELAN®, GoControl®, Linear®, Mighty Mule® and Numera®, NSC designs solutions for security dealers, technology integrators, national telecoms, big box retailers, OEM partners, service providers, and consumers. Headquartered in Carlsbad, California, NSC has over 50 years of innovation and is dedicated to addressing the lifestyle and business needs of millions of customers every day. For further information, visit nortekcontrol.com. 
Other brand names and product names mentioned herein may be the trademarks, tradenames, service marks or registered trademarks of their respective owners.
Back